There are just ten days remaining to experience the astonishing world of magical creatures and phenomenal beings on view in Japan supernatural at the Art Gallery of New South Wales, as part of the Sydney International Art Series.
Due to popular demand, in its final weekend the exhibition will be open until 10pm on Friday 6, Saturday 7 and Sunday 8 March. The Last Weekend, Late Nights program will provide visitors the opportunity to experience the exhibition after dark during its final days.
On view exclusively at the Art Gallery of NSW, Japan supernatural has captured the imagination of audiences through its enchanting exploration of Japanese folklore, brought to life in magnificent paintings, large-scale installations, miniature carvings and humorous illustrations, and vibrant ukiyo-e woodblock prints.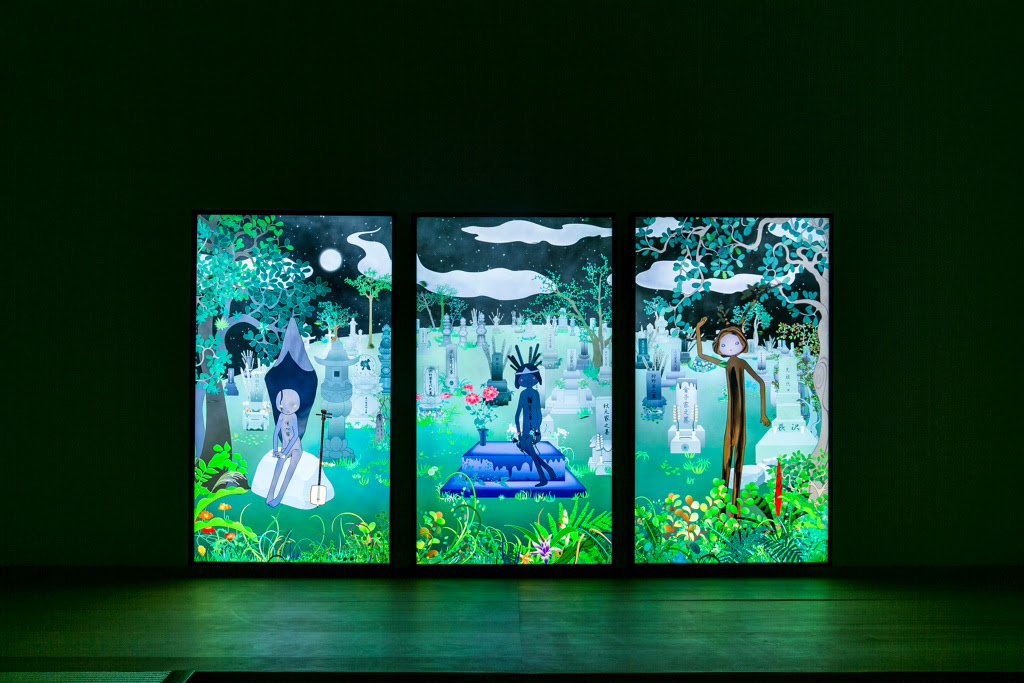 Installation view of the exhibition Japan supernatural at the Art Gallery of New South Wales featuring artwork by Chiho Aoshima.
Centred on a monumental installation of painting and sculpture by Takashi Murakami, the exhibition features some of the greatest Japanese artists of the past, including Katsushika Hokusai, Utagawa Kuniyoshi and Tsukioka Yoshitoshi, alongside contemporary artists such as Chiho Aoshima, Fuyuko Matsui and Miwa Yanagi.
The exhibition is inspiring audiences of all ages to engage and explore, with visitors listening to the Japan supernatural audio experience for an average time of 62 minutes. Featuring commentary by exhibition curator Melanie Eastburn, together with authors and experts on all things supernatural, Hiroko Yoda and Matt Alt, the audio experience also has a unique score showcasing Japanese instruments that responds to the theme for each space within the exhibition. Developed by the Art Gallery of NSW in partnership with Art Processors, the audio experience is free and available for download in both English and Japanese.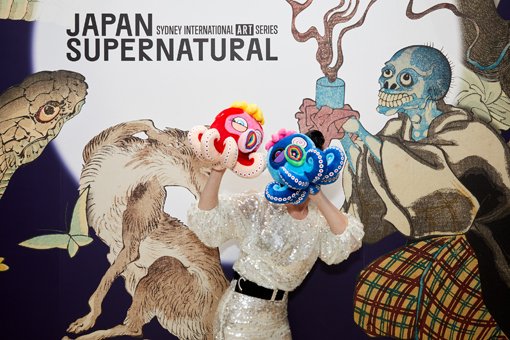 Instagram competition: creatures of the night
Join us after dark and share a snap about your favourite creature of the night for your chance to win one of two Takashi Murakami octopus plush toys (valued at RRP $335). Your creature can be tentacled or tricksy, tiny or terrifying, as long as it's found within the Japan supernatural exhibition!
How to enter
All you have to do to enter is:
Attend Japan supernatural from 5pm on Friday 6, Saturday 7 or Sunday 8 March 2020
Take a photo in front of our Japan supernatural photo wall
Share it on Instagram using the hashtag #JapanSupernatural and add a caption which tells us your favourite creature in the Japan supernatural exhibition
Follow @artgalleryofnsw on Instagram
The competition opens Friday 6 March at 5pm and you have until midnight Sunday 8 March to get your entries in. We'll announce the two lucky winners on Tuesday 10 March.
Art Gallery of New South Wales
Art Gallery Rd, The Domain 2000
Sydney, Australia